Back in 2001, I was invited to a luncheon with Google and had the good fortune of sitting next to their CEO, Eric Schmidt. At the time Google was only a few years old – a one dimensional but fast growing search engine company – and Eric was eager to get some feedback and ideas. He asked me what I thought…about my pain points, Google's business and their opportunities. I told him about the need for more data to understand with transparency how to optimize advertising on Google. And beyond that I said, "Eric, you're sitting on a goldmine of data. What if you set it free and made it readily available to customers? Imagine the ecosystem you could build around that data. Agencies, analysts and marketers would all start relying on it…" Eric leaned in with a twinkle in his eye and said, "I can see it. I can." Google engineers were probably working on just that at the time. And looking back, we may have been having one of the first conversations about what eventually became Google Analytics, a product that propelled a revolution data-driven marketing.
What is a business ecosystem, anyway?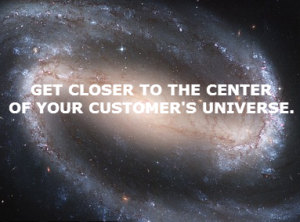 I'm no ecologist in the scientific sense but will offer this definition. It is a business community or network formed around a company's mission, assets or products that supports members, builds customer relationships and adds value that scales through ancillary services. When value is created by members – through new services, functionality and content – it feeds the network, increases the importance (and/or size) of the ecosystem and makes the company behind it more indispensable.
The result? You get closer to center of your industry's universe and your customer's universe.
Many technology companies, and famously Google, have built empires through their ecosystems. Google Analytics, for example, has spawned a whole economy of vendors, consultants and apps devoted to building on (and optimizing) its analytics. Their ecosystem is nurtured with APIs, structured partner programs, communications support, user conferences, and more.
Salesforce has mastered the art of the ecosystem. Their APIs and App Exchange they have spawned an entire industry devoted to enriching their core product. This year their mega conference, Dreamforce, had 135,000 registered attendees from 91 countries and 2000 speakers from their customer base and partner network. Very sticky stuff.
How can you create an ecosystem, or be a little more "Google-ish" that way?
Let's face it, not every company can be like Google. But there are still things you can do to make your company more central and more relevant to your customers. Here are a few ways.
Foster innovation with APIs. APIs encourage outside development, applications and new services that build on what you do. You might think APIs are only for technology companies. Not true. APIs are more about leveraging data in ways that facilitate innovation and make your offering more sticky with customers—and every company has data. International Hotel Group, for example, has an open API that enables partners to create customized experiences for travelers shopping on travel booking sites. Media companies and business information providers, challenged with disruption, should take note. They have large data sets and audiences – two key building blocks of an ecosystem. Forbes, a real media innovator, has an API. And so does USA Today, whose partners have built over 200 apps by leveraging its data. (Note I said data, not "content" , but that's a story for another day).
Conferences that make you shine. User and customer conferences are a forum to share best practices and build important relationships, putting your company at the center of the action. They provide a showcase for partners and customers who add value to the ecosystem and generate content that can further grow the universe. Last week I attended the Marketo Nation roadshow, a user conference which featured Marketo partners and provided excellent case study on using marketing automation to grow adoption of apps. I made some good contacts, reconnected with others and discussed it with colleagues. And now YOU are reading about it. But user conferences don't have to be just for technology companies. ADP has one for example and they are a global provider of HR solutions. Their ADP Pro User conference shares best practices and attendees even earn professional credit hours when they go.
Thought leadership and research. Collecting data and shaping it into insights with real perspective is what thought leadership is all about. And that makes your company more relevant to customers. ThomasNet's Industry Market Barometer, for example, takes the pulse of its market and offers valuable insights into trends, innovation and challenges in manufacturing. Findings are used with customers and widely promoted in the media. In general, one good research study can be milked until the cows come home. Earlier this year we conducted a study called The State of Safety for one of our clients and we've been leveraging the insights in sales and marketing for months.
Can a non-technology company be more like Google?
Creating an ecosystem – or taking steps in that direction – is not just for technology companies. Let's take a packaging company for example. Many parts of the packaging industry are easy to imitate and have low barriers to entry, which makes for intense competition and hurts profits. You can't get further from Google or Salesforce than that. How can a packaging company create an ecosystem?
What if the company collected data from its customers (and elsewhere) on the most innovative uses of packaging? What if that data were standardized with benchmarks and trends for the industry and shared with suppliers, consultants and others who supported packaging innovations—with the understanding that their developments be fed back to the company – and celebrated through special reports, events etc? What if they created a best-in-class partner program to provide specialized capabilities for customers? Participating suppliers who provide add-on value – waterproof, shake-proof, anti-theft, anti-rust, mold-proof and anti-pollution aspects of packaging – might be attracted to the company's ecosystem. They'd want to be associated with thought leadership, recognition and a network with broad reach in the industry. Additional capabilities would enable the company to meet a broader range of needs for customers, and might enable it to expand into new markets. This is not your grandfather's corrugated box company.
How far should you take it?
This is a bigger question than can be answered here. It would be doing you a disservice to try in this format. But you should ask: how can you tap into a core part of your business and encourage outside development around that core in ways that add value and feed on itself to your benefit?
There is no one right answer or a right way to create an ecosystem. But important lessons can be gleaned from players like Google who have gotten it right for their business. While being the center of your industry's universe is an audacious goal, there can still be powerful benefits even if it you just move a step closer to that center. And, who knows, that process might just be sparked with a single customer conversation.
If you'd like to discuss research studies for thought leadership (or otherwise get closer to center of your customer's universe), give us a call at 917-373-7451 or drop us a line.